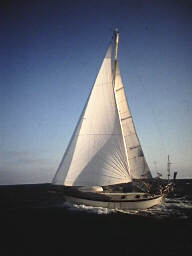 In 1988, I sailed away from the West coast of the United States in a 31-foot sailboat. This is my story — my account of a 3 1/2-year around the world solo sail.
Read about the pirates, storms, and wars I witnessed firsthand.
Read about the relationship between a solo sailor and the sea, his daily companion.
Read how I changed — from fearing to leave shore, to wanting never to touch land again.
If you have ever wondered what it feels like to sail free, alone on the sea, then
let me take you on my voyage, my adventure — read my book, sail with me!
"Confessions of a Long-Distance Sailor"
Download this book in ZIP form for offline reading:
My book "Confessions of a Long-Distance Sailor" is in the CareWare program. No money, now or ever — but not exactly free.