IcomControl Home Page
Current Version: 3.3 (12/02/2000)
NOTE: This application is outdated and has been superseded by a much better application: JRX. Visit the JRX Home Page.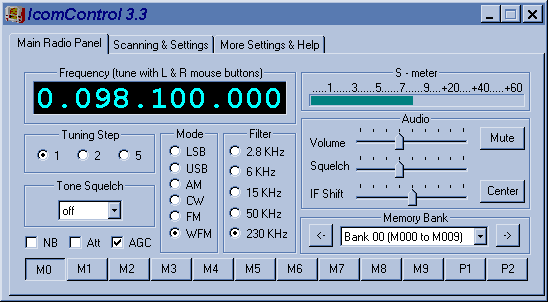 ---
What is IcomControl?
IcomControl is a radio controller designed for the Icom PCR1000.
IcomControl is designed to be very easy to use.
IcomControl has 400 easy-to-use memory locations.
IcomControl uses plain-text data files, so importing and exporting data is easy also.
IcomControl has advanced frequency programming and scanning features.
Oh, I almost forgot the other good news. IcomControl is CareWare — that means no money, now or ever. You just have to care.
Just download this self-extracting file and run it — installation is automatic. Then run IcomControl. Select Help for use instructions. If, when you run IcomControl, your system reports that it is missing one or more DLL files, or if the program does not run correctly, Click Here to download the required files. And click here for a full explanation. Version History
Version 3.3. Added a color-choice dialog for the frequency display.
Version 3.2. Added more memory-button features and bank switching buttons.
Version 3.1. Added more memory and the ability to label each memory cell.
Version 3.0. Added more memory locations and features, added scan capability.
Version 2.0. Initial public release.
IcomControl is © Copyright 2000, Paul Lutus Message Page
IcomControl is CareWare .